We have broken ground and are begin construction on house 99 at 641 W Miller #99. Come join us.
We will partner with Brazosport College and hope to have dedication on February 12th.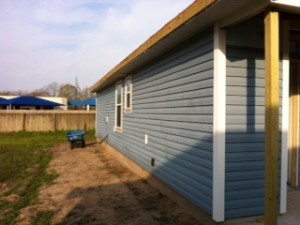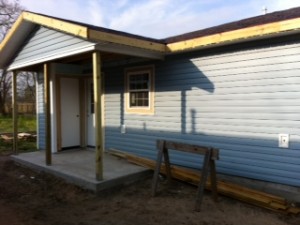 March 15-21, 2016
Tues or Wed – Tool trailer delivered to Miller St
Friday – Drywalling complete
Saturday – Trim trailer delivered and Trim work (at least the inside) complete*
Sunday afternoon – PAINT PREP
Monday – Paint A few days later – Flooring Shortly thereafter – Cabinets, countertops, electric, final trim and so forth.
Mar 29 (Tuesday) Electric crew in. Trailer is at the house
Apr 1 (Friday) Flooring is scheduled
Apr 4 (Monday) Cabinets installed
April 5 (Tuesday) Formica and trim crew are scheduled
Landscaping for Habitat House #99
641 Miller Street
Angleton, TX
May 7, 2016
8 a.m.
To all HfH volunteers,
Work is drawing to a close on Habitat House 99 at 641 Miller street in Angleton.  We now need to make the yard look nice.  To do this, landscaping will be done Saturday, May 7, 2016.  This will be a great opportunity for younger volunteers, church groups, scouts or families to help with a Habitat build.  However, those under 16 must be accompanied by an adult*.   Work will start around 8:00-8:30 a.m. and be completed in about a half day, depending on the number of volunteers and weather.  There will be dirt to move and level, plants, shrubs and trees to plant and sod to put down for the lawn.  There should be work for all so come and help, if you can.  Tools will be provided.  However, you must wear closed toed shoes, and you might want to wear old clothes, bring gloves, a hat, and water.
Click on the following link to display a map to the build site.  I like the satellite view.
641 W. Miller, Angleton
*Volunteers of any age must have the attached waiver on file or bring it with them on the day they volunteer.
Jim Erskine
Habitat for Humanity Volunteer Coordinator
jerskine1@att.net